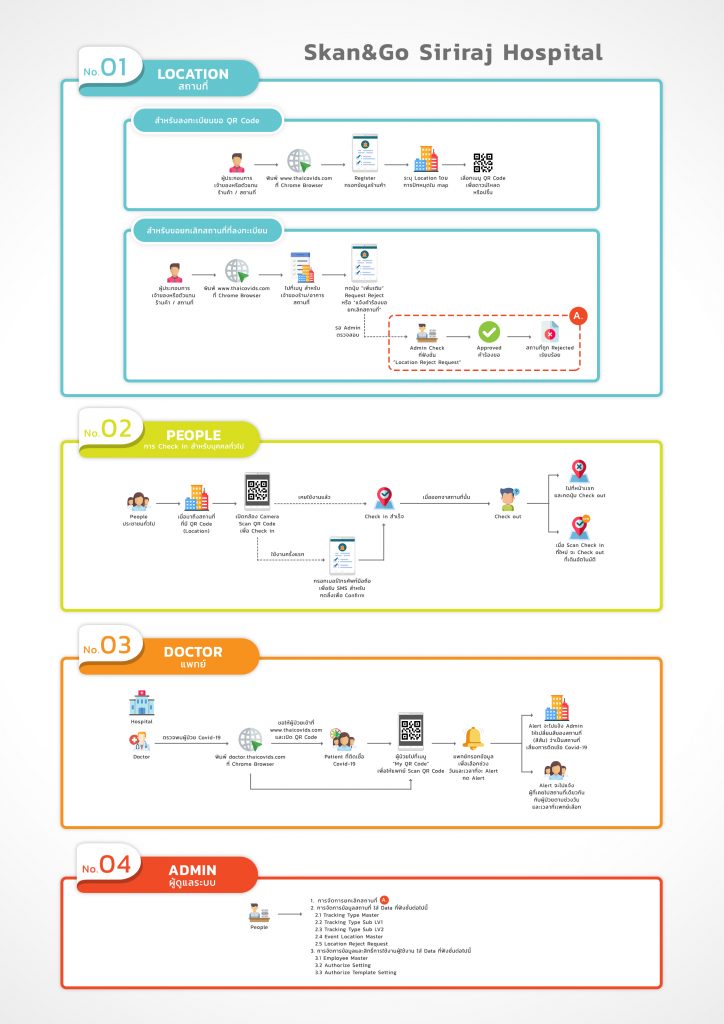 Skan & Go for Covid-19
(Epidemic Control Solution)
Objective
For personal visit tracking & tracing, the system is keeping 14 days of your journey history by scanning Skan&Go QR Code of each location, you have visited.
Just 2 simple steps :
1. Open the Phone Camera
2. Scan the QR Code.
You will receive the system OTP for self-verification and know the location's risk by upon your "Scan" as follow:
Orange sign : Warning Area
Red Sign : Avoid Area
Green Sign : Let's go (Safe Area)
Applicable for
Hospital, Industrial Communities, and MNCs
(able to implement this system as Epidemic Control Tool for any Contagious disease in such management areas.)
Benefits
1. People Tracking: People for daily use in epidemic area / location. No need to download the application. They just open their mobile camera
to scan and chk-in at location's QR code and then can make self chk-out. They will also know the infectious status of each location before travel.

2. Location Register: The owner has to register their place name, location, business type, postal area and contact info over the system (using mobile phone) in order to receive their location's QR code before let other people scan for visiting. Location owner will also receive notification
when Infected Covid-19 people comes.

3. Disease Controller: After Covid-19 lab test result has been confirmed, doctor will use Skan&Go (doctor feature) to scan thier patient's QR code so the doctor will know their patient's journey history (e.g. 21 days back) and the system will automatically send sms alert notification to other circle people who has checked-in & out in between the infected
case's visit & also affected places.
Doctor can defining number of hours & days e.g. 2 hrs
(droplet spread-out timing) & 14 days for Alert Period condition.

4. Area Management: After location received Covid Alert, the color
will turn to Orange. Responsible Government officer will conduct
the disinfection process of each infected location (during clean-up,
the location's sign will turn to "Red"). The sign will turn to "Green"
once disinfection process is done.